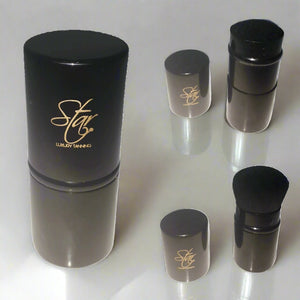 To prevent over-tanning of the face, hand & foot areas of the body, our retractable Luxury Kabuki Face & Hand Brush is the perfect tool to have in your tan application collection. 
The brush allows you to get into all those commonly missed areas ie between the fingers and toes and applies the tanning products more subtly, resulting in perfectly tanned hands and feet.
Use on the face to apply your tanning product with more precision and prevent an uneven finish.
Can also be used to contour and define your facial  features using a darker shade of tanning product than your all over shade.
Pair up with our Luxury Kabuki Body Brush for the perfect application brush duo.
Brush made with high quality, super soft synthetic fibres. 
Handle made from thick, scratch-proof high quality aluminium.
Vegan Friendly & Cruelty Free.