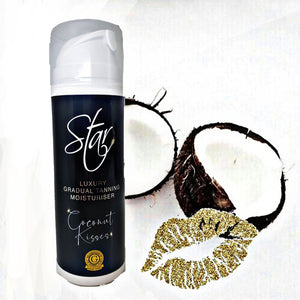 One of our brand new additions to our DIY Tanning product range.
Our Gradual Tanning Mousturiser Lotion is the perfect product to give your skin a gradual, natural glow that will darken to your preferred shade over several applications.
Apply evenly to clean, dry skin before bed and when you wake up, your skin will be glowing. 
Apply evenly every evening to maintain a healthy looking glow.
Apply at least 4 hours after showering to prevent the product resting in the pores as this can cause a dotting effect when developed. 
Wash palms after application or apply using latex gloves.
Available in our brand new Coconut Kisses scent.
150ml